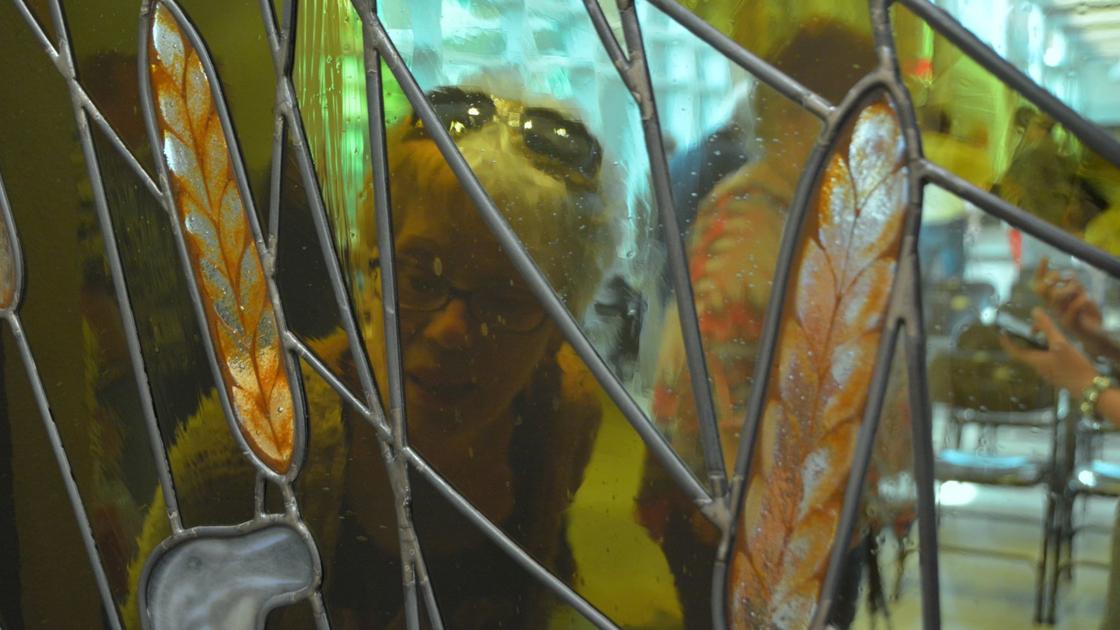 The Beatrice Community Hospital Foundation unveiled a new three-paned stained glass window in the hospital's chapel on Thursday to recognize people who have played an integral part in the hospital and its foundation.
The panes, which feature a pastoral scene full of prairie imagery, were dedicated to Jane Aden, Alyce Jane Delozier and Gene and Elsie Caspers.
Aden worked as the hospital's gift shop manager. The shop was previously located just across the hall from the chapel.
BCH Foundation executive director Sam Rennick said that Aden was a wonderful employee and her death last year played an important part in the window's origin.
"She was a beautiful person, loved by her family, friends and colleagues here at BCH," Rennick said. "Shortly after her death about a year and a half ago, her husband shared that he would like to do something special in her memory. She loved her job at the hospital and it was an important place for her. The idea of replacing the chapel's windows with stained glass was born shortly thereafter."
A few months after that, Delozier's husband Duane learned about the project and decided a window would be a good way to memorialize his wife, Rennick said.
"Then the final piece of the puzzle came when Gene and Elsie Caspers agreed that we could recognize their significant financial contributions to the foundation by dedicating a window in their honor," Rennick said.
Designed by Lincoln artist Harry Tompkins, owner of Palace Glass, the windows feature an array of complex glasswork, including bezeling, vitreous painting and fusing.
Work on the window began about a year ago, Tompkins said. It's a view of the prairie, made to compliment the hospital's décor. White flowers line the bottom of the window panes, stalks of wheat dot the prairie landscape and meadowlarks fly above.
In the middle there's a big telephone pole – what it represents is up to you, Tompkins said.
"You can kind of determine your own values in what you see in the windows," he said. "Some of you will see a cross, some of you will see a prairie with an old telephone pole in it. It is really meant for you to decide what you see in the window. There's no right or wrong thing to see, we hope to just present you with some beauty."