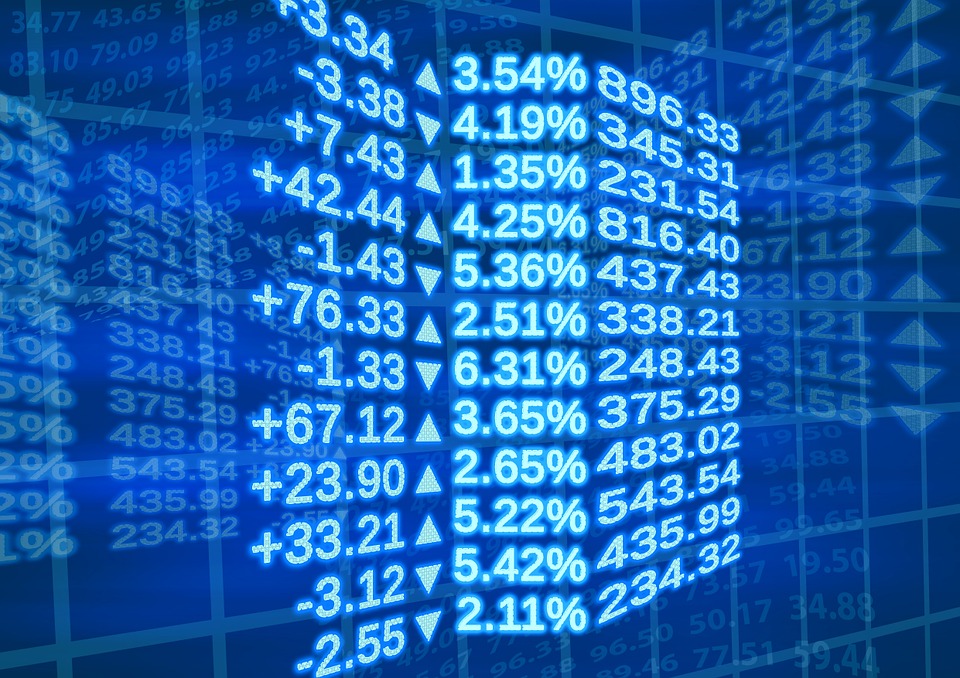 Quick Take
0x protocol (ZRX-USD) has announced the pending launch of the second version of its decentralized markets protocol.
The project is continuing to develop an Ethereum-based protocol to enable the creation of decentralized markets for a wide range of products and services.
The ZRX token appears to be decoupling from Bitcoin (BTC-USD), which is a healthy and inevitable sign of project development and maturation.
Risks to 0x include competitive pressures and potential main-chain limitations of the Ethereum (ETH-USD) blockchain.
Given the 0x team's execution, the more expansive version of its protocol and its traction to-date, I'm bullish on the ZRX token's prospects.
Company & Technology
San Francisco-based 0x was founded in 2016 to enable online services to provide token trading capabilities to users without the need to hold user funds in custody.
Management is headed by co-founder and CEO Will Warren, who was previously a graduate researcher at the Los Alamos National Laboratory. Co-founder and CTO is Amir Bandeali.
Below is an overview analysis of 0x in August 2017:
(Source: CrushCrypto)
The firm counts numerous integration partnerships including Augur, Aragon, Maker and Melonport.
With the initial launch of the 0x protocol in August 2017, the project focused on token trading for ERC20 compliant tokens.
It created the concept of a 'relayer,' which are independent online services built using 0x' protocol and are essentially trading order books enabling users to trade the tokens of their choice while retaining custody of their funds at all times.
The benefit of this approach is greater security for traders and for the service since the services would no longer be 'honey pots' attracting hackers attempting to steal custodial funds.
Another benefit is that decentralized exchanges ('DEX') offer increased censorship resistance in countries or regions that are hostile to the free flow of capital.
A third benefit is the ability to integrate market functionality directly inside decentralized applications, or DApps, which promises to allow users to easily trade assets at the exact time needed.
The 2nd version of 0x' protocol, which is scheduled for a July 2018 commercial release, includes a number of enhancements over the first version:
New smart contract architecture

; seamlessly support new token standards. Support for ERC-721 [

Non Fungible

Tokens] at launch
More efficient order matching and cross-relayer arbitrage
Support for new signature types and custom verification logic
Open source framework for "forwarding contracts." Easy user on-boarding, abstraction of

WETH

, and trade widget support.
Ability to create "filter contracts" for permissioned liquidity pools
Bulk order cancellations with a fixed sized transaction

(Source:0x Project Blog)
Investors funded the firm in seed and ICO rounds concluded in March-May 2017 and included Polychain Capital, Pantera Capital, Blockchain Capital, Jen Advisors and Fintech Blockchain Group. It is believed these firms received discounted tokens as part of the investment terms.
The ZRX token has two types of functions:
Pay fees to relayers (market operators)
Create a form of decentralized governance of the 0x protocol
The combination of paying fees to relayers for each transaction (high velocity) with the need to hold tokens (governance voting power) is where the token has the promise to derive most of its value.
The ultimate value of the ZRX token will likely depend on the degree to which its platform is adopted by market makers and the amount of trading activity handled on those markets.
Markets & Competition
Centralized exchanges handle trillions of dollars worth of forex, securities, commodities and derivatives daily on a worldwide basis.
It is difficult to overstate the market potential for an 'operating system' for decentralizing those markets.
While there will no doubt remain significant use cases for centralization, the benefits of decentralization result in lower risk and freer flow of capital.
Major competitors to 0x include a combination of direct competitors and legacy exchange technology providers:
Direct competitors within the Ethereum ecosystem:
Kyber Network (KNC-USD)
AirSwap (AST-USD)
OmiseGo (OMG-USD)
EtherDelta (EDT-USD)
ShapeShift
Outside Ethereum competitors:
BitShares (BTS-USD)
Waves (WAVES-USD)
Stellar (XLM-USD)
Other competitors:
NASDAQ (NDAQ)
ICE (ICE)
Commentary
The 0x project is one of a select few projects that are actually showing significant adoption growth by both businesses and traders.
As a recent presentation by the company indicated, the project now has over ten relayers or sites using its system, generating an aggregate trading volume of more than $160 million with over 90,000 completed trades: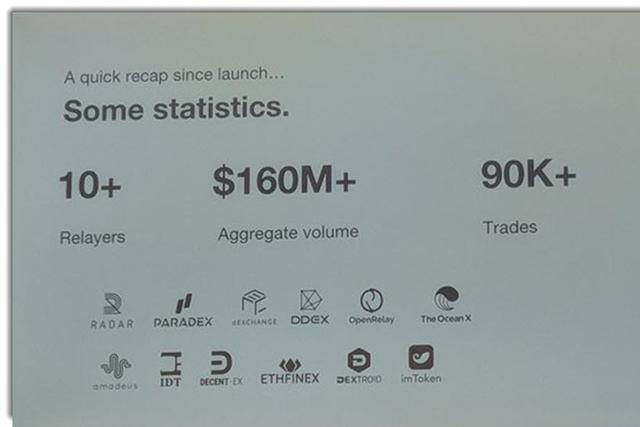 (Source: 0x Twitter)
Historically, with version one of the 0x system, it was focused primarily on tokens that are 'fungible,' i.e., typically for financing purposes where each token of a certain type has the same properties as the next one. These are referred to as ERC-20 tokens.
With the recent interest in collectible CryptoKitties has come a new use case for tokens that are unique, or 'non fungible.' These are referred to as NFTs and are designated as ERC-721 tokens.
Development of the 2nd version of the 0x protocol was probably largely driven by a desire to expand the range of tokens from only the original fungible ERC-20's to the ability to add NFTs (ERC-721) and other tokens on an as-needed basis.
The next token likely to be added to the new protocol will be Security tokens, which promise to allow almost any asset to be tokenized (securitized).
The project's token (ZRX) has performed well over the past six months, rising from $0.20 per token to currently around $1.36 as the chart below indicates: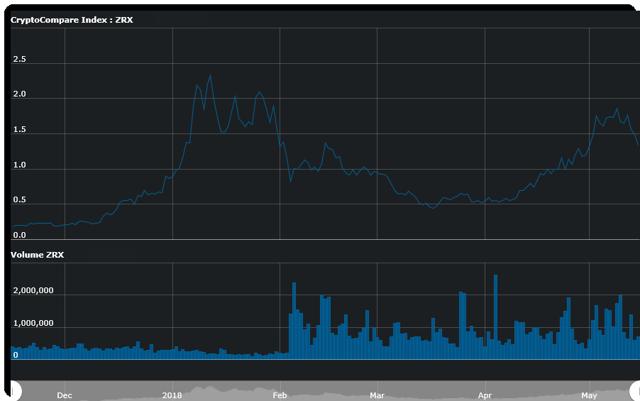 (Source: CryptoCompare)
What are potential upside catalysts for the token in the near term?
First, the official launch of the 2nd version of the platform, which is scheduled for July. It will likely take some time after this launch announcement for relayers to transition to the new system, although some may do so rather quickly, in order to enable new types of trading and improve their liquidity options.
Second, the addition of Non-Fungible Token support to the protocol will expand trading volumes and use cases. This will likely begin to take shape in Q4 2018 and beyond.
Third, 0x plans to add Security Token support to the protocol, which, when combined with increasing interest by companies and individuals in tokenizing assets and business opportunities, may result in further catalysts into 2019.
Risks to 0x and its token ZRX include competitor announcements in this fast-moving sector. Even legacy exchanges such as Nasdaq, which is primarily a technology provider to centralized exchanges worldwide, are developing blockchain-based solutions to exchange challenges.
As 0x increases throughput, the Ethereum main blockchain may show signs of strain if significantly more transactions are broadcast in real-time. This may necessitate a technology shift to side-chain solutions that would cost 0x time and money.
The ZRX token has been generally less correlated with bitcoin (BTC) price activity than many other alternative coins (altcoins).
The sharp rise in December 2017 was followed by a several-week delay with ZRX price action. Also, more recently, ZRX has risen more sharply than BTC in the mid-April to mid-May period, so interested acquirers of the token may experience less correlation with Bitcoin going forward.
I suspect that as more projects like 0x launch and build their services, their token price action will deviate more from that of Bitcoin, which I believe is a healthy and inevitable development.
With a strong team executing well, an expanded ability to serve myriad new token standards and growing traction in the decentralized market space, I'm bullish on the prospects for the ZRX token.
Disclosure: I am/we are long ZRX-USD.
I wrote this article myself, and it expresses my own opinions. I am not receiving compensation for it (other than from Seeking Alpha). I have no business relationship with any company whose stock is mentioned in this article.